The Learning Calendar is Costa Rica's largest source for sustainability education and wellness events. Visit the all new RegeneraVida platform to see or add events, or connect with a larger community of people passionate about living well.

Learning Calendar: Costa Rica
Permaculture and Surf Program (PSP)
May 12, 2019

-

May 18, 2019
Permaculture, Surfing, and Yoga!
Rancho Delicioso is an extensive Costa Rica eco village, offering a week-long (7 days / 6 nights) retreat with three of our favorite things: Surfing, Permaculture, and Yoga!
Our location, on the Southern Nicoya Peninsula between the towns of Santa Teresa and Malpais, is perfect for surfing. There are dozens of great beaches within a short drive in almost every direction, and surfers from around the world come here for this reason.
Surfing is only part of the program. The rest of the time you'll be taking courses to learn various organic farming techniques, sustainable building, permaculture design and principles, hanging our with our farm animals, and learning about farm life in general. Plus, we have other classes and activities for you such as aerial silk, archery, and raw chocolate-making.
Every day we have yoga classes too, and once or twice, those of us who who have the energy will escape the farm for a bit to sample the night life in Montezuma.
This PSP retreat, experiencing our life in a growing Costa Rica eco village, will be one of the coolest things you ever do.

Surfing
We're going to try to hit the waves for sunrise or sunset, when they're usually at their best (and least crowded) but this is also going to depend on the surf that mother nature gives us, plus the tides and weather.
For the PSP program, surfing will be our #1 priority (as it should be with any serious surf lover!) That means you will miss some yoga classes. You will probably miss some permaculture classes too. You might even miss a meals and have to eat them later.
Where do we surf? You can check out detailed info on that here.
Normally we'll go to Playa Grande for beginners, but if there's no waves there then Playa Carmen or even Playa Hermosa. We are centrally located so all the best spots are within our reach.
Who is with us for the week, and their skill levels, will determine also where we go. If everyone is more experienced, we're more likely to mix it up and go on safari, trying out a few good spots. What types of surfboards do we have? For beginners you'll be on a foam top board or sometimes a
The price will include 5 surf trips, with transport, board, and lessons included. If you want to go more than that, it's an extra charge, depending on where you'd like to go.
Surf Instructors: We work with our friends at both Young Vision and South Nicoya Surf. Depending on your skill level and the situation, sometimes you may go with the Rancho Delicioso owners and friends (we are a mix of beginners and intermediates.)
Permaculture Courses
We'll offer eight basic Permaculture courses during the week you're here:
Definition, Ethics and Principles
: Participative discussion that includes the Web of Life Activity.
Composting
: Making a "lasagna-style" compost pile and bio-fertilizers.
Biointensive Gardening
: Hands on mulching, seeding, transplanting, making beds, moon cycles, pest and disease control, plant propagation, seed saving.
Agrofitness
: "Double Digging" garden-bed making technique.
Sustainable building
: Discussion about various methods of natural construction techniques, natural cooling, energy, and green building. Hands on with Cob building.
Food Forests
: Tree planting and maintenance, layers of the forest, guilds, observation exercise in a native forest with jungle hike to Zone 5.
Medicinal Plants and Medicine Making
: Native plant walk, tinctures, honey cough syrup and ointments made with local herbs.
Permaculture Site Analysis
: Using patterns and the edge effect – design and hands-on making an herb spiral or mandala garden.
Our PYP (Permaculture and Yoga Program) guests will take them all, but our surf group may miss a few of them, depending on how the surf is while you're here.
Accommodations
Our "River Palace" is one of the most remarkable structures built in Costa Rica. It's over 70 feet tall (22m) built over the center of the convergence of three small river valleys. There are three elevated bridges to get to it, and inside are three floors.
The building is really amazing, but keep in mind it's still pretty primitive. There's no air conditioning, and it's very open, made mostly from natural materials. You don't get a private bathroom. There's little privacy. It's still a dorm-type situation, although more like something that Tarzan and his family would be living in.
It has three floors inside:
First Floor
: There are two single beds and two hanging nest beds
Second Floor: Four hanging nest beds
Third floor loft: Two private rooms, each with a queen bed
There are three other options:
Stay Offsite
: For various reasons, some people want to stay offsite and come to the farm every day for meals and courses. That's fine, and it's the cheapest way to do program.
Tent: You can bring a tent and set it up on the farm. You'll use our bathrooms and showers. Some people like this for privacy, especially couples. This is a better option in dry season unless your tent is really waterproof.
Treehouse: You can stay in Joseph's amazing treehouse, which is booked on the AirBnB site. It's usually booked far in advance because it's so popular. Check it out here: Joseph's Treehouse.
More details about these accommodations are shown here: The River Palace.
Our Food
We take pride in telling you that the food we'll be serving you is delicious and amazing!
Very similar to what we have at Anamaya, it's a healthy diet that includes no red meat. It's mostly vegetarian, but sometimes we have local organic chicken or fresh fish from our fishermen friends in Cabuya.
We can provide you pure vegetarian or vegan if you wish.
Many of the ingredients come from our own farm, but not all. For what we're unable to grow, we work with organic suppliers on the mainland of Costa Rica, who grow things (like carrots and onions) that require a higher elevation than we have down by the beach. We're not 100% organic but we do our best with the resources we have. Overall the ingredients we use in the cooking are probably around 80% organic. Everything we grow on the farm is 100% organic.
About the Farm
Rancho Delicioso is a 60-acre Eco Village located between Montezuma and Santa Teresa. Most of the land is set aside for farming and wild jungle. Besides the Permaculture Center that hosts our retreats and volunteer program, there are many lots owned by various people, with homes under various degrees of completion.
Besides all the wild animals in the jungle (including plenty of monkeys who hang around the farm) we also have many domestic animals such as horses, chickens, ducks, goats, sheep, peacocks, tilapia fish ponds and of course dogs and cats too.
We have a several acres under active cultivation for food. Besides extensive fruit orchards, we have three tropical greenhouses (with open sides), a hydroponics greenhouse, and lots of open-air gardening. We spend a lot of effort to improve our soil, and are working towards a no-till agriculture method.
There are many active projects at any moment here, really too many to mention, experimenting with various permaculture and organic gardening ideas such as treehouses, a bio-char oven, a food forest, tropical hugelculture, geodesic dome, a living tree dome, water catchment pond system, a worm box, soldier-fly harvester, beekeeping (3 types of bees), different types of composting, a banana-circle greywater treatment system, and more.
Other Activities
We offer a lot of activities while you're here and most are included. We probably offer too much, and if you do everything you won't have a lot of time to relax. But we're passionate about this stuff and it's fun so for those who love to be super active and try everything, you'll really have a lot of fun. Keep in mind that everything is voluntary! You're perfectly welcome to relax in a hammock, meditate up in our "AwareNest" treehouse, or take long walks in the jungle.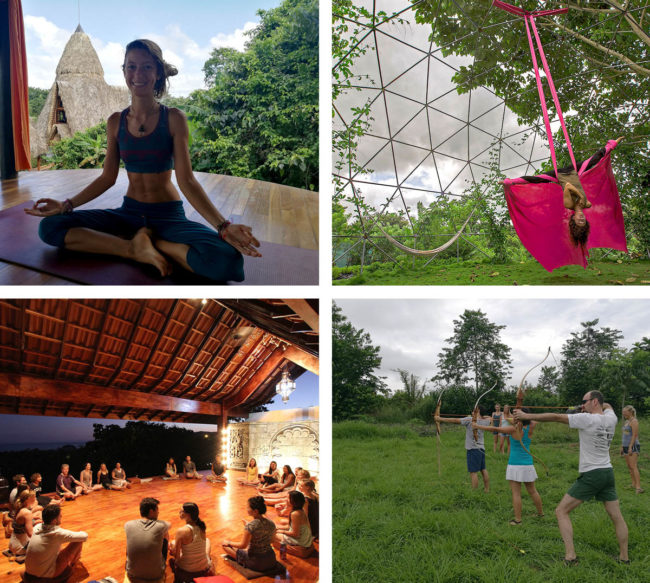 Aerial Silk – We will have one beginner's class where you'll learn a couple of ways to climb the silk, and several fun tricks that many people can do on their first day.
Anamaya Yoga – One of our yoga classes will be held at Anamaya, on one of the ocean view yoga shalas there. This will be an unforgettable time.
Archery – During this class we'll teach you to shoot a re-curved bow. Many of our guests find they absolutely love archery.
Goat Playground – We have a goat playground made out of old tires, and it's super fun to go in there with our goats and climb around. Our goats are super-friendly and love people. They'll follow you everywhere and expect to be pet and scratched.
Kensanity – At 9am almost every morning we have a hard-cord boot-camp fitness class that's based on the "Insanity" classes that have become so popular in the U.S. This is one of the most difficult workouts that exists. It's for serious athletes or people who want to really get into great shape when they return home and would like to see how hard it is. Very few of our guests who try it come back for a second class!
Montezuma Nightlife – On Thursday night (and sometimes Monday too), we'll take you down to Montezuma to party with the townies and tourists at Chico's Bar and in the street. We'll dance, have a beer or two, watch the fire-dancers, and usually stay out too late. It's a lot of fun, and after a night on the town, many people extend their stay so they can head to Montezuma for a few extra nights after the retreat is over.
Raw Chocolate Making – We will teach you to make RAW chocolate… super powerful, amazingly tasty, and full of healthy goodness, raw cacao is easy and fun to do, and you'll easily be able to repeat this at home when your return. Hope you like dark chocolate!
Swimming Pool – You can swim in our pool at Geoff and Yasmin's house, and we also have a pool party on the last day. Nothing helps the tropical mid-day heat like a dip in our salt-water pool.
Waterfall Hike – We'll take you to famous Montezuma Falls, where you'll jump and swim in the river, and explore the jungle trail system a bit, including a couple of hanging suspension bridges.

Your Retreat Leaders
We have an amazing, international crew of awesome and super-happy and inspired people living here who will be your guides for the week.
Cydney: Cydney is a permaculture expert and teaches many of our courses here at Rancho Delicioso. Previously an owner of her own yoga and surfing resort, she's spent many years as a surf instructor too.
Irene: Our resident natural building expert, Irene Alpizar also teaches yoga, various permaculture courses, and is experienced in a wide variety of natural healing, herbalism, etc. Read more about here here: Irene Alpizar
Geoff: Geoff McCabe, originally from Seattle, came to Costa Rica in 2004 and is the main owner and visionary behind Rancho Delicioso and Anamaya. He lives on the farm, and sometimes fills in to teach various classes such as the aerials, raw chocolate-making, archery, and surfing. Geoff was a professional fire dancer for 10 years with Pyrosutra.
Janine Janine Jordan lives on the farm and teaches yoga for us. She's also the brain behind the Greenwave non-profit organization that backs many of the sustainable projects in the area. She's also a wicked hula-hooper and one of the best dancers you will ever see, and is the founder of EMA, the Electronic Music Alliance.
Julio: "Julito" Lopez is from Nicaragua, and manages our team of farm workers who do most of the hard labor. They dig, plant, chop, clean, and work all day in the tropical sun to make Rancho Delicioso the "Garden of Eden" type paradise that it is.
Laura: Our Tica chef, you will delight in her amazing, healthy cooking. She was trained in Anamaya's kitchen and comes to the farm for our retreats to head the kitchen. Many of our guests threaten to kidnap her to take her home with them.
Yasmin: Farm mamma and co-owner. Yasmin Tobon grew up on a farm in Colombia, and takes care of just about everything here. She loves people, especially children, and animals, cooking, growing stuff and just about everything else.
Prices and Booking Info
Private Loft, solo: $1592.16
Private Loft, shared: $1166.19 each
Hanging Bed, solo: $1166.16
Hanging bed, shared: $1059.69 each
Sofa Beds: $1059.66
Tent or Offsite: $880.44
The PSP Program prices depends on your accommodations. We have a few options below:
Dates/Schedule
| Dates | Register |
| --- | --- |
| November 11 – 17, 2018 | Register Now |
| December 9 – 15, 2018 | Register Now |
| January 13 – 19, 2019 | Register Now |
| February 10 – 16, 2019 | Register Now |
| March 10 – 16, 2019 | Register Now |
| April 7 – 13, 2019 | Register Now |
| May 12 – 18, 2019 | Register Now |
| June 16 – 22, 2019 | Register Now |
| July 14 – 20, 2019 | Register Now |
| August 11 – 17, 2019 | Register Now |
50% of this price is for Food and Accommodations. 50% is for Courses and Excursions
Tax is 13%, only on Food and Accommodations
Max: 16 people per retreat
Discounts:
Book 3 months early: 6% off
Book 6 months early: 12% off
Green Season Discount (May-Nov): 12% off
Payment and Deposit:
When you're ready to book, we'll send you a PayPal money request for 50% of the price of the program, as a non-refundable deposit. The balance is due two weeks before your arrival, and we'll send you a PayPal money request for that as well. If you prefer to pay the balance in cash when you arrive, that can sometimes be arranged too.
Cancellation Policy: If for some reason you can't come or decide not to come, we will apply your deposit to a future retreat with us, minus 20% re-scheduling fee. We don't give deposits back. The same applies for health reasons and "acts of god" such as bad weather. We recommend getting trip insurance to cover you in case you need to cancel. So, be sure you're really ready to come before booking.
Liability Release Form: Upon arrival you must sign our standard liability release. Please read it before booking: RD Liability Release Form

FAQs – Frequently Asked Questions
Bugs/Insects: – Yes we are in the rainforest so there are lots of bugs everywhere! However, we don't have a lot of mosquitoes at the farm, and we don't have Zika in this part of Costa Rica. There are a few at times, and usually the mosquitoes will pick out one person with the sweetest blood and no one knows who that will be until they get here. It's a good idea to bring some bug spray just in case they decide you're this week's feast. Keep it on your feet, ankles and calves at all times and it will help a lot. Also, they are attracted to sweat so rinsing off will help too.
Donations – Some of our guests want to help the local community, and so we ask that anyone who wants to do this can bring some navy blue pants or skirts, and white button-down shirts, which we donate to the nearby public school for kids who can't afford uniforms. You can usually pick this stuff up for cheap, in childrens' sizes, at a thrift store.
Permaculture Certificate – For students who are able to complete all eight permaculture courses during their stay, we award an "Introduction to Permaculture" certificate. It's not actually useful for anything but it's fun to have. However, for the PSP program, it's nearly impossible to get all eight classes because you'll usually miss some of them while you're surfing. So, don't expect a certificate.
Travel to Rancho Delicioso – You will need to book your own travel arrangements to get here. Instructions and options are shown here on our website: travel help
---
Community learning calendar created and maintained by Upward Spirals.
We want to make your events more successful and make them available to larger audiences. This helps us get closer to our objectives of improving the efficacy of environmental improvement projects, and maximizing the reach of actionable sustainability information.
Learn more about our mission to empower people to use resources more efficiently so that natural systems can sustain all life abundantly.