The Learning Calendar is Costa Rica's largest source for sustainability education and wellness events. Visit the all new RegeneraVida platform to see or add events, or connect with a larger community of people passionate about living well.

Learning Calendar: Costa Rica
Awaken: Permaculture and Yoga Retreat
February 9, 2020

-

February 15, 2020
Spend a week with us in the jungle and learn to design a bountiful permaculture garden that supports all life.
With the era of consumerism, the world faces many challenges from loss of habitat, to environmental degradation and social disconnection. We believe it's time to cultivate opportunities for positive change and learning.
Permaculture – derived from the words "permanent" and "culture" – is a design science based on mimicking efficient patterns and relationships found in nature. Permaculture is yoga for the land, as yoga is permaculture for the body.
Awaken Surf – Permaculture and Surf Camp: If you're most interested in Surfing, then also check out our similar program, where you'll be able to surf every day. Lessons, board, transportation, etc, are included: Awaken – Permaculture & Surf Retreat
PDC – Permaculture Design Course: The PYP course is a beginners course, meant to be fun and give you a basic introduction to some very deep subjects. If you're interested in a more serious and detailed course, then we will be offering a PDC – Permaculture Design Certificate at some point. With this, you'll be certified to teach a course like what we offer at the PYP. Fill out our form here and we'll contact you with dates of our PDC course, which will be a two-week program: PDC at Rancho Delicioso
Introduction
Our week-long adventure includes the following:
7 Days / 6 Nights at Rancho Delicioso

3 Meals per day that showcase healthy fresh cooking from the farm or local providers

Introduction to Permaculture – 8 Workshops

2 Beach Trips (Surfing Lessons Optional)

Aerial Silk Beginner's Class

Raw Chocolate Making Class

Montezuma Waterfalls Excursion
Introduction to Permaculture Daily Workshops:
The program will include eight permaculture courses, from 90-120 minutes long each, throughout the week, earning you an "Introduction to Permaculture" certificate from Rancho Delicioso. These classes will be:
1. Definition, Ethics and Principles:
Participative discussion that includes the Web of Life Activity.
2. Composting: Making a "lasagna-style" compost pile and bio-fertilizers.
3. Biointensive Gardening: Hands on mulching, seeding, transplanting, making beds, moon cycles, pest and disease control, plant propagation, seed saving.
4. Agrofitness: "Double Digging" garden-bed making technique.
5. Sustainable building: Discussion about various methods of natural construction techniques, natural cooling, energy, and green building. Hands on with Cob building.
6. Food Forests: Tree planting and maintenance, layers of the forest, guilds, observation exercise in a native forest with jungle hike to Zone 5.
7. Medicinal Plants and Medicine Making: Native plant walk, tinctures, honey cough syrup and ointments made with local herbs.
8. Permaculture Site Analysis: Using patterns and the edge effect – design and hands-on making an herb spiral or mandala garden.
Slideshow
Many more photos here: Awaken Photo Gallery
Joseph's Treehouse at Night
Joseph's amazing treehouse is often booked far in advance, so if you want it for all or part of your stay, check its calendar on AirBnB as early as possible.



Activity Details
Daily Yoga Classes
You don't have to be a ballerina doing split handstand to be able to practice yoga. Whether you're a beginner just wanting to stretch, or an advanced level yogi, our daily classes will allow you to connect with your body.
Aerial Silk Basics
Ever wonder what it's like to dance in the air? Our workshop teaches how to move with the silks, and is geared for the absolute beginner. This is a fun way to activate all muscle groups while learning a few tricks to show your family and friends back home!
Archery Basics
Perhaps after seeing "The Hunger Games" you have wanted to try shooting a bow and arrow? Now is your chance to let fly a few shots into some hay bales on the farm. It's surprisingly addictive and cathartic.
Yoga at Anamaya Resort
The yoga decks at our partner resort – Anamaya – are truly spectacular. With views over Montezuma and out to the ocean, it is a wonderful place to practice at the beginning or end of the day.
Waterfall Adventure
Montezuma's famous waterfall will be our destination. We take a set of hanging bridges and jungle trail to visit this amazing spot, with warm clean water for swimming and huge trees overlooking. There are a series of spots to jump from, and the bravest among us may take the 35-ft plunge off the second waterfall into the deep pool below. We eat a picnic lunch at this spot, prepared by our chef, and this event happens right after yoga at Anamaya.
Beach and Surfing Trip
No trip to Costa Rica would be complete without a chance to dive in, balance your body, and feel the power of the ocean. Surfboards and surf classes, boogie boards rentals, etc, require an extra fee, but two trips to enjoy the beach are included. Click here to read about some of the area's best surf spots: Surf Spots Near Rancho Delicioso.
Montezuma Nightlife
On Thursday night, those of us who are up for it head down to experience "Reggae Night" in town. Although they don't always play any reggae, we dance at Chico's bar, watch the fire dancers on the street, mingle with the locals, and enjoy the unique scene that's part of what Montezuma's famous for.
Last Night Pool Party
An opportunity to chill with your new-found family beside a cozy bonfire. Enjoy our salt-water swimming pool to cool off from the tropical heat. Stargazing included! It will all have gone so fast, so this is a moment to reflect and enjoy the last night of the PYP.
Retreat Leader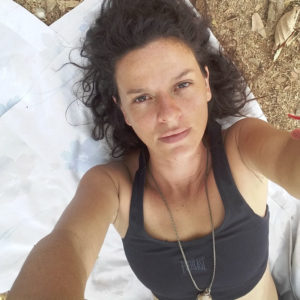 Irene Alpizar is an Herbalist Intuitive, passionate about energetic connections with nature and has extensive knowledge of plant combinations for healing purposes. She's enthusiastic about helping people move toward physical, emotional and spiritual health through natural techniques and lifestyle modifications.
Irene is also an experienced Cob builder, having made her own house in the area using sustainable materials and techniques. Rancho Delicioso's cob building classes are held at her place.
A seeker and follower of all Metaphysical, Ancestral and Shamanic wisdom healing, she is constantly studying techniques and methods for using the vital energy also known in the ancient culture as Chi or Prana.
Irene is from Costa Rica, and speaks Spanish, English and French. Read more about here here: Irene Alpizar
Where are we?
Costa Rica is the ideal place to set up a permaculture center because of the year-round beautiful warm weather (and not as hot as most people think!) It's also one of the few countries in the world with NO ARMY, and the culture here is very peaceful and relaxed.Montezuma is perhaps only the coolest little beach town in Costa Rica, or maybe the planet. A remote and still secret spot on the tip of the Nicoya Peninsula, travelers seeking something unique and away from the tourist crowds come here to explore one of the few last unspoiled places on earth. A haven for artists, hippies, fire dancers, jungle lovers, yogis, and all kinds of fun and freaky people, Montezuma has a unique vibe that has won the hearts of so many people who have been lucky enough to discover it.
For lots of cool photos and videos about Montezuma, click here: Montezuma
Santa Teresa and Malpais are only 5 minutes farther away than Montezuma but in the opposite direction. ST is a surfer's dream town, with miles of white sand beaches, year-round waves, over 100 restaurants, and a lot going on. A couple years back, Santa Teresa won an award on Trip Advisor for being the travelers pick for best beach town in all of Central and South America! Complete info here: www.malpaisbeach.com
Many of our guests head to Santa Teresa or Montezuma for a few days after their retreat at Rancho Delicioso.
Video of the Farm
Our Food and Restaurant
The food will be very healthy for this retreat. It's mostly going to be vegetarian and a few vegan dishes too. Mostly gluten-free also, although sometimes an Italian friend of ours drops by some amazing fresh-baked whole wheat bread.
You'll be eating at Wonderland restaurant, which is part of Rancho Delicioso. You'll be served a family-style meal with all included, although you can order off the menu if you want something extra. We sometimes have organic chicken or local fish dishes. Our chef was trained in the kitchen at Anamaya, which is super healthy and gourmet, so most of our guests here at the farm are really impressed because pretty much it's the same food for half the price.
Typical dishes we serve, in no particular order, are: flax seed vegan pancakes, gallo pinto, vegan lasagna, felafel and hummus, yucca pie, veggie burgers, phad thai, veggie curry, gluten-free yucca pizza.
Not all the ingredients are from the farm, but we use as much as we can of what we're producing. It's not ALL organic either. We try our best to get 100% organic produce, but the veggie truck doesn't always bring what we want so in those cases we buy from the local supermarket, which isn't organic. This will improve over time since Costa Rica's organic food production is rapidly growing and distribution improving.
Daily Schedule (Typical)
6:30-7:30am
8:00-8:30am
9:00-10:00am
– Fitness Class – HIIT (optional)
10:00-12:00pm
12:00-1:00pm
1:00-4:00pm
– Siesta, Free Time, Swimming Pool, or Various Activities
4:00-6:00pm
6:00-7:00pm
7:00-9:00pm
– Free Time. Movies, bonfire, various extra activities
9:00pm+
For more detail, click here: Detailed Schedule of Activities
Week Schedule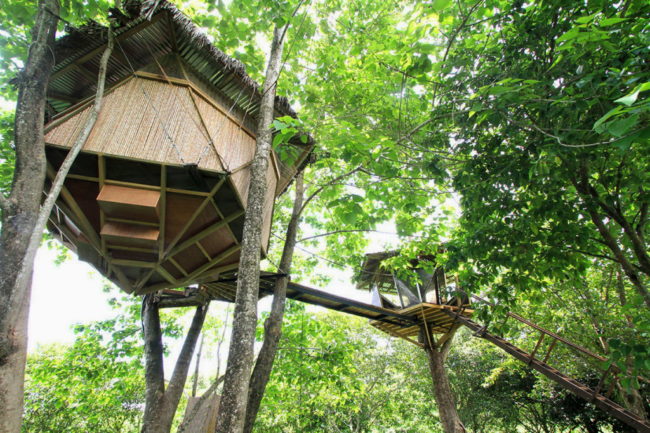 This is a general week schedule, which may shift a bit depending on various things like the availability of teachers. We try to fit all this in here, and more. Sometimes if someone amazing is in town and offering something unique we'll bring them to the farm and offer it to the guests, such as a unique style of yoga or something that fits with our vibe. Some guests find there's too much to do and want to relax more… that's fine too, you're not obligated to do any of these activities.
Sunday – Orientation
Opening Circle and Dinner
Monday – The Fun Begins
Permaculture: Introduction to Permaculture

Beach Trip to Montezuma Town Beaches

Open Mic Night at Cafe Organico in Montezuma
Tuesday – Anamaya and Waterfall
Ocean View Yoga at Anamaya Resort

Permaculture: Bio-intensive Gardening
Wednesday – Beach & Surf Day
Permaculture: Agrofitness

Beach Trip – Surfing Optional
Thursday – Aerial Silk Day
Permaculture: Greenbuilding and/or Aquaponics

Permaculture: Food Forests

Dance and Street Party Night in Montezuma
Friday – Chocolate Day
Permaculture: Natural Medicine Making

Raw Chocolate Making Class

Permaculture: Site Analysis Class
Saturday – Goodbye Day
Closing Circle, group hugs, tears, and goodbyes
calendar of classes and events
Prices and Calendar
Awaken Retreat prices depends on your accommodations. Check out photos of our accommodations in The River Palace to see options.
| | | |
| --- | --- | --- |
| Tent or Offsite | US$580.44 | |
| Single Sofa Bed | US$740.16 | (up to 2 available) |
| Nest Bed, Shared | US$740.16 | each, shared bed |
| Nest Bed, Single | US$846.66 | (up to 6 available) |
| Private Loft, Shared | US$745.08 | each, shared bed |
| Private Loft | US$1272.66 | single occupancy. (up to 2 available) |
Maximum 16 people per retreat
Single Night Stays (1-4 nights):
Includes:
food and all of that day's activities.
Requirements:
These are only booked last minute when we're sure we will have a space available that's not taken by a full-week guest.
Beds:
$120 per person for whatever bed is available.
Tent:
Usually, our retreats begin on Sunday and end on a Saturday.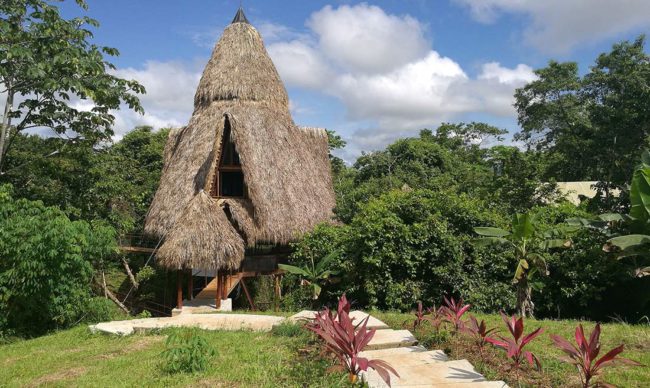 Payment and Deposit: When you're ready to book, we'll send you a PayPal money request for 50% of the price of the program, as a non-refundable deposit. The balance is due two weeks before your arrival, and we'll send you a PayPal money request for that as well. If you prefer to pay the balance in cash when you arrive, that can sometimes be arranged too.
Cancellation Policy: If for some reason you can't come or decide not to come, we will apply your deposit to a future retreat with us, minus 20% re-scheduling fee. We don't give deposits back. The same applies for health reasons and "acts of god" such as bad weather. We recommend getting trip insurance to cover you in case you need to cancel. So, be sure you're really ready to come before booking.
Liability Release Form: Upon arrival you must sign our standard liability release. Please read it before booking: RD Liability Release Form
---
Community learning calendar created and maintained by Upward Spirals.
We want to make your events more successful and make them available to larger audiences. This helps us get closer to our objectives of improving the efficacy of environmental improvement projects, and maximizing the reach of actionable sustainability information.
Learn more about our mission to empower people to use resources more efficiently so that natural systems can sustain all life abundantly.