The Learning Calendar is Costa Rica's largest source for sustainability education and wellness events. Visit the all new RegeneraVida platform to see or add events, or connect with a larger community of people passionate about living well.

Learning Calendar: Costa Rica
Advanced Therapeutic Thai Massage
March 30, 2020

-

April 7, 2020
Advanced Therapeutic Thai Massage
with Christopher Ray & Kate Lewandowski
March 3oth – April 7th, 2020
Finca Mia, Costa Rica
It's our annual Costa Rica intensive! We have created a training which provides a balance between the focused discipline of studying Thai Massage and the rejuvenating spirit of an exotic vacation. This intensive is for all bodyworkers who would like to deepen their practice, further their understanding of the body, learn how to maintain the health of their own bodies while giving massage, receive good bodywork, and fire up new inspiration for their massage practice.
This is a 45-hour NCBTMB and THAI certified training packed full of refined, therapeutic massage techniques, self-bodywork techniques, yoga, Chi Kung, amazing food, river dipping, forest hiking, relaxing in a hammock, and more…
Training includes:
Body Assessment
Where is congested energy being held?

In what order must areas be opened?

What type of bodywork is appropriate for this individual?
Sensing energy & following sen lines
Feel revolting muscles vs surrendering muscles.

Determine how deeply you can work and how to direct the energy.
Using the breath
Learn to evaluate breath patterns and how to coach an optimal breath.
Working deeply
Remove surface tension in preparation for deep work.

Approach multiple layers of tension; How much can be worked in each session?

Use subtle adjustments that create dramatic effects.

Practice slowing down. Letting go of a prescribed, timed sequence and replacing it with feeling and following the energy.

"Clean-up". How to finish up a session after working deeply.
Using props, straps, various body parts, and appropriate body mechanics to maximize effect and minimize physical effort.
Recognize how each body may need to be supported differently.

Support your body with a simple strap system so you can easily use your feet, knees, elbows, sitz bones and body weight.

Minimize muscular effort so you can feel nurtured by your massage career for a lifetime. Practice getting out of your own way and working less.
Specific and unique therapeutic techniques
We will cater the week around the ailments and interests of the students. We want to make it as useful as possible for you. Chris has endless tricks, techniques, and info to share so we take your requests and then practice several different ways to approach that area so each student can find the approach that works best for them.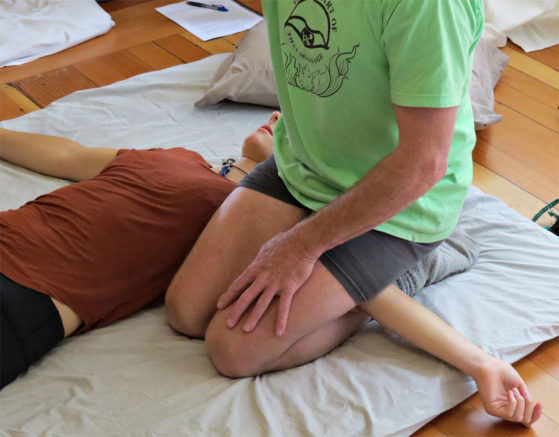 Christopher's extensive practice and passion with therapeutic Thai Massage has allowed him to discover numerous subtle, powerful techniques for coaxing muscles and energy to release. He shares a unique Thai Massage style that focuses on using the breath, long compressions, keen presence, and a strap system for supporting the therapist. Christopher has a special ability to help people release chronic physical and emotional ailments, and he abundantly shares the knowledge, tricks, and techniques for doing so.
This detailed sense of body mechanics can not be found in any book. This class will help you sense a body and energy more deeply, and will enhance your existing practice in numerous ways.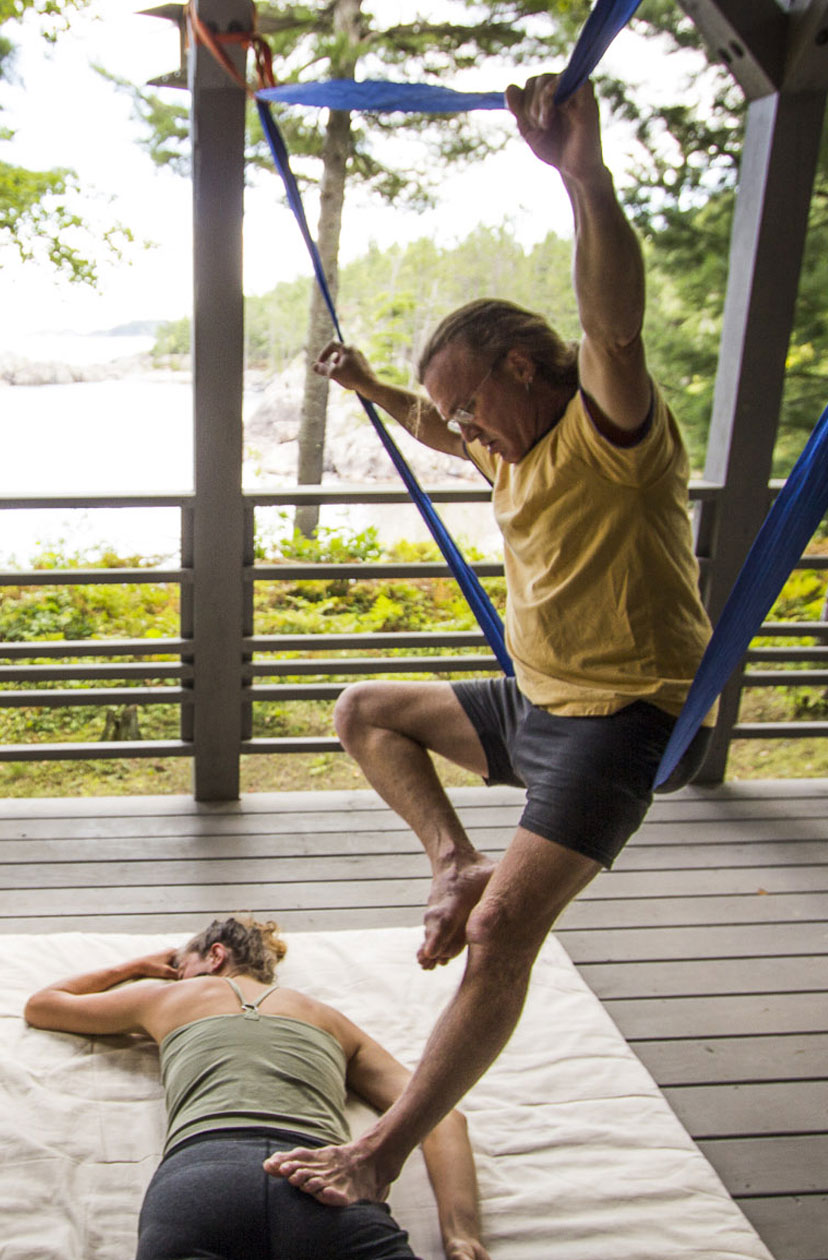 Not so sure about this strap system you're seeing here? No problem! We have had many table massage therapists and yoga instructors who have gratefully applied these theories and techniques to their practices without the use of straps. Our goal is to show you many different ways to accomplish the same task. And then help you find the method the works best for your body. Every client and every practitioner is unique. So every session should be unique. Standardized sequences are a great place to develop a massage practice. But this course helps you refine your unique bodywork offering. Although we will show short sequences, ultimately, we find that students take these techniques and concepts and weave them into their existing sequences.
Explore the work in a beautiful, nurturing environment
This year, we are thrilled to offer our retreat in the lush foothills of the Chirripo Mountain Reserve. Located at an elevation of 4000 ft, along the banks of the pristine Talari River, the cool nights, warm days, and lush natural environment create a perfect setting for opening, learning, and relaxing. The Finca Mia healing retreat center is surrounded by rainforest for secluded tranquility, yet graced by a vibrant community of amazing people.
Two of your guides for the week
Christopher Ray is approved by the National Certification Board for Therapeutic Massage & Bodywork (NCBTMB) as a continuing education Approved Provider. (#451538-11) and is registered by Thai Healing Alliance International (THAI) as a Thai Therapist and Instructor.
Christopher has been exploring massage & bodywork for the past 25 years, focusing on Traditional Therapeutic Thai Massage for the past 20. He has worked with many teachers in Thailand, and has developed a unique, masterful style of bodywork which is deeply transformative. Christopher's patient, thorough style of 3 to 4-hour sessions has allowed him to explore deeply into how congestion, fascia, and energy move and function in the body. Chris began teaching 13 years ago, sharing his detailed sense of body and energy mechanics, as well as his clear, heart-based approach to life. He is passionate about assisting people in opening up their bodies, remembering their true potential, and embracing life with authenticity, love and joy.
Kate Lewandowski is a certified breathing facilitator, registered yoga teacher, dance teacher, landscaper, Qi Kung practitioner, bodyworker, ex-veterinarian, and cosmic traveler. She thrives on balancing and supporting the highest potential of all those around her. She is also the nuts-n-bolts organizer of this team who holds the container for the magic to unfold. Together, Christopher and Kate's skills balance and synergize to create exuberant classes that provide a life changing experience in a fun, comprehendible way.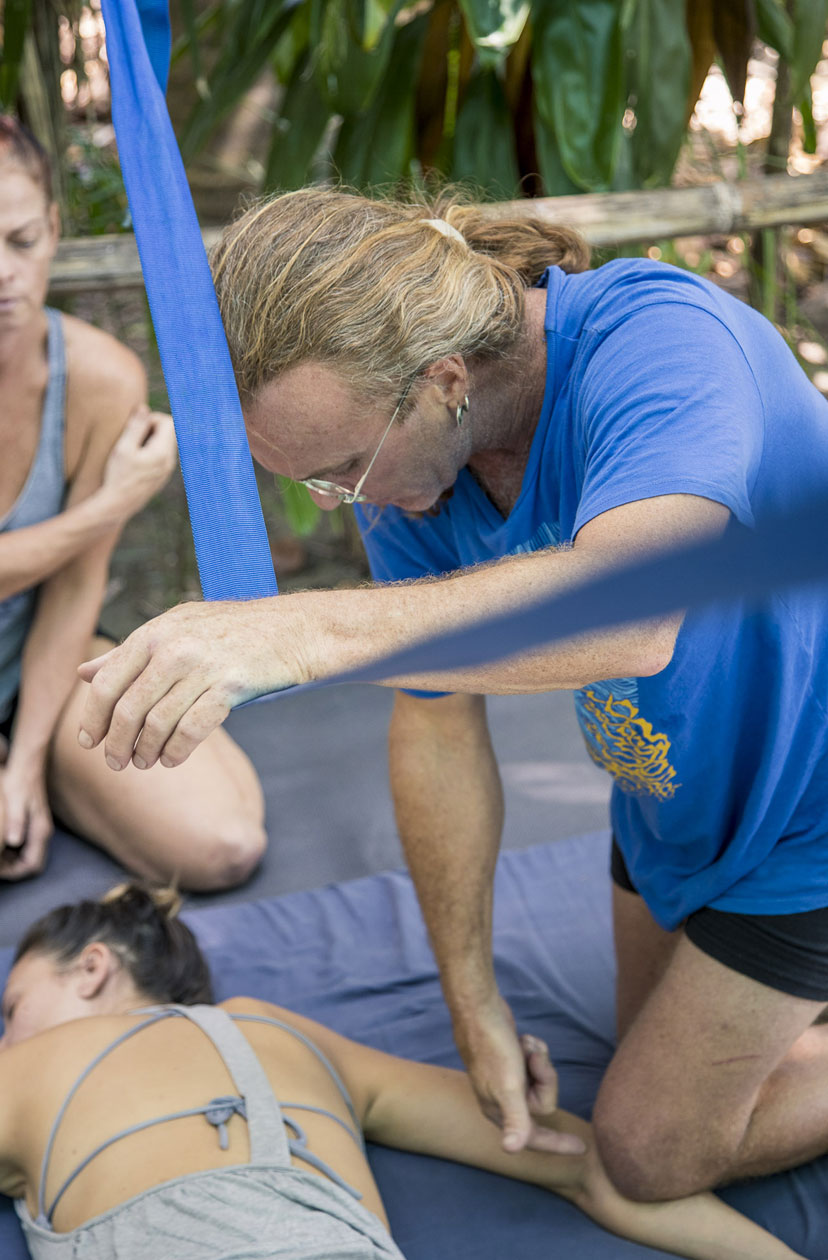 The who-what-how details
The training cost includes:
8 nights lodging at the beautiful healing center, Finca Mia. Lodging options include Luxury private or shared cabinas and Economy options with shared bathrooms. Please see Finca Mia's website for photos and descriptions of each.

3 nourishing meals per day (from dinner on the 31st through breakfast on the 8th). Much of the food is organic and sourced locally. All dietary requirements are happily accommodated.

Transportation to/from San Jose to Finca Mia on March 31st and April 8th. This is a 4 hour, shared van ride through the beautiful, mountainous countryside. If you make your own travel arrangements (bus, rental car, or flight), we will give you a $100 credit ($50 each way)

Tuition for 7 days of instruction. Christopher and Kate go over the top to give you their full attention. They intend to share as much as possible and want you to have a full, rewarding experience. You benefit from the fact that they are both over-achievers. Class size maximum is 14 people to ensure quality. We are happy to connect you with previous participants if you would like to hear their perspective.

A thorough manual to take home with you.
What is not included:
Transportation to San Jose, Costa Rica (SJO)

Incidentals such as tips for staff, and wine or beer.

Lodging in San Jose. Depending upon your flight schedule, you may need to spend a night in San Jose.
Pricing:
Register by December 1st and pay $2200 (Luxury shared), $2000 (Eco shared), $2900 (Luxury solo) or $2500 (Eco solo).
After December 1st, cost is $2350 (Luxury shared) or $2150 (Eco shared), $3050 (Luxury solo), $2650 (Eco solo).
Returning students of this same course receive a $500 discount.
If you would like to bring a friend or spouse with you who will not be attending the training, their cost will be $1000 less than the costs listed above. There are plenty of activities for them to enjoy while you are exploring bodywork.
A $500 NON-REFUNDABLE (after Jan. 1st) deposit is required to hold your space. Please secure personal travel insurance if you have any concerns.
Payments can be made via PayPal (see link below), personal check, or money order. 50% payment is required by January 1st. Full payment is required by March 1st.
Click the button (On their website) to reserve your space.
We look forward to assisting you in opening doors of opportunity and discovery, and sharing one of our favorite places on the earth with you. Lots of love to you and Mama Earth & Waters,
— Christopher & Kate
---
Community learning calendar created and maintained by Upward Spirals.
We want to make your events more successful and make them available to larger audiences. This helps us get closer to our objectives of improving the efficacy of environmental improvement projects, and maximizing the reach of actionable sustainability information.
Learn more about our mission to empower people to use resources more efficiently so that natural systems can sustain all life abundantly.